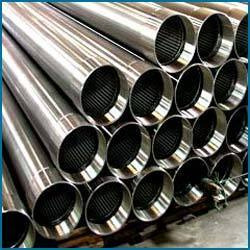 Alloy Steel Pipes
Product Description
Taking our expertise and proficiency into consideration, we are valued as a prestigious supplier and exporter of Alloy Steel Pipes. These pipes are sturdily manufactured by most reliable vendors using the top quality alloy steel material and advanced technique. In our offered range of pipes, clients can find different sizes, seamless & welded form and round, square & rounded shape to meet with the specific requirements. Alloy Steel Pipes are widely used in oil, petrochemical, water treatment and other allied industries for different applications.


Features of Alloy Steel Pipes:
Impeccable finish
Dimensional accuracy
Rust proof


Further Details:

We have in store for our clients, a sturdy range of alloy steel pipes that is designed using premium grades of alloy steel including ASTM A335GR P1, P5, P9, P11, P22 and P91. Available a size of up to 24" NB. These alloy steel pipes are provided in a wall thickness ranging from Sch. 5S to Sch XXS and can be customized for our clients as per their specifications.


Alloy Steel Pipes Technical Details:


Pipes
Tubes
ASTM A 335 Grade P - 11
ASTM 213 Grade T - 11
ASTM A 335 Grade P - 12
ASTM 213 Grade T - 12
ASTM A 335 Grade P - 22
ASTM 213 Grade T - 22
ASTM A 335 Grade P - 9
ASTM 213 Grade T - 9
ASTM A 335 Grade P - 9 A
ASTM 213 Grade T - 9 A
ASTM A 335 Grade P - 5
ASTM 213 Grade T - 5
BS 3604 Grade 620 - 440
BS 3059 Grade 620 - 460
BS 3604 Grade 621


BS 3604 Grade 622
BS 3059 Grade 622 - 490
BS 3604 Grade 625


BS 3604 Grade 629 - 470
BS 3059 Grade 629 - 470
BS 3604 Grade 629 - 590
BS 3059 Grade 629 - 590
BS 3604 Grade 660


BS 3604 Grade 762
BS 3059 Grade 762
BS 3059 Grade 243
ASTM 213 Grade T - 2
ASTM 213 Grade T - 1 B
DIN 17175 10 Cr Mo 910
DIN 17175 13 Cr Mo 44
DIN 17175 X 20 Cr Mo V 121
ASTM 213 Grade T - 1
DIN 17175 15 Mo 3
DIN 17175 14 Mo V 63