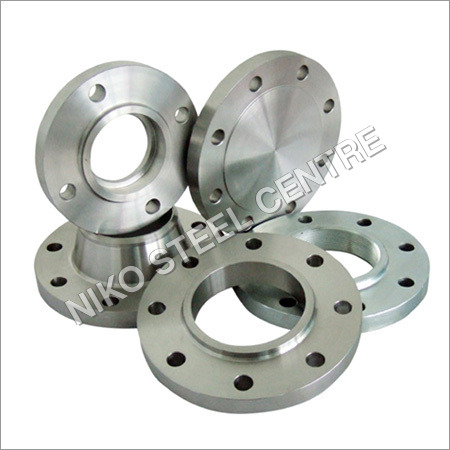 Socket Weld Flanges
Product Description
As a reliable manufacturer and supplier of the industry, we are instrumental in offering our clients an exclusive range of Socket Weld Flange. Precisely designed at our state of the art machining facility, these flanges are made using quality stainless steel procured from authentic vendors of the market. Our Socket Weld Flange allows a better grip on the pipe and ensures a smooth flow of liquid. In addition, we can also customize these flanges on the parameters of thickness, dimension and radius.

This is similar to a slip-on flange in outline, but the bore is counter-bored to accept pipe. The diameter of the remaining bore is the same as the inside diameter of the pipe. The flange is attached to the pipe by a fillet weld around the hub of the flange. An optional interval weld may be applied in high stress applications. It's biggest use is in high pressure systems such as hydraulic and steam lines.


Features of Socket Weld Flanges:
High temperature & pressure resistivity
High impact strength
Rust proof finish
Socket Weld Flanges Further Details:

A Slip On Flange is bored slightly larger than the outer diameter of the matching pipe. The pipe slips into the flange prior to welding both inside and outside to prevent leaks. We manufacture high quality flanges keeping in view the latest technology.


Stainless Steel : ASTM A 182, A 240
Grade : F 304, 304L, 304H, 316, 316L, 316Ti, 310, 310S, 321, 321H, 317, 347, 347H,904L,
Duplex stainless steel UNS S31803, 2205, Super Duplex stainless steel UNS S32750
Size : 1/8" NB TO 48"NB.
Class : 150#, 300#,400 #,600#,900#, 1500# & 2500 #.
Standard ANSI : ANSI B16.5, ANSI B16.47, MSS SP44, ANSI B16.36, ANSI B16.48
DIN : DIN2527, DIN2566, DIN2573, DIN2576, DIN2641, DIN2642, DIN2655, DIN2656, DIN2627, DIN2628, DIN2629, DIN 2631, DIN2632, DIN2633, DIN2634, DIN2635, DIN2636, DIN2637, DIN2638, DIN2673
B.S : BS4504 , BS4504, BS1560, BS10
Technical Specification:
1500 LB. FLANGES
Normal
pipe
size

Outside
dia. of
flange

Minimum
thickness
of flange

Overall Length

Bolt
Circle

No. and
Size of
Holes

O.D.
of raised
face

Welding
neck

Slip-on
&
socket
welding

Lap
Joint




O

Q

Y

Diam.

No.

dia.

R

1/2

12.1

22.3

60.3

31.8

31.8

82.5

4

22

35

3/4

130

25.4

69.8

34.9

34.9

89.0

4

22

43

1

149

28.6

73.0

41.3

41.3

101.5

4

25

51

1-1/4

159

28.6

73.0

41.3

41.3

111.0

4

25

64

1-1/2

178

31.8

82.6

44.4

44.4

124.0

4

29

73

2

216

38.1

101.6

57.2

57.2

165.0

8

25

92

2-1/2

244

41.3

104.8

63.5

63.5

190.5

8

29

105

3

267

47.7

117.5

73.0

73.0

203.0

8

32

127

3-1/2




























4

311

54.0

123.8

90.5

90.5

241.5

8

35

157

5

375

73.1

155.5

104.8

104.8

292.0

8

41

186

6

394

82.6

171.4

119.1

119.1

317.5

12

38

216

8

483

92.1

212.7

142.9

142.9

393.5

12

45

270

10

584

108.0

254.0

158.8

177.8

482.5

12

51

324

12

673

123.9

282.9

181.0

219.1

571.5

16

54

381

14

749

133.4

298.4

-----

241.3

635.0

16

60

413

16

826

146.1

311.2

-----

260.4

705.0

16

51

470

18

914

162.0

327.0

------

276.2

474.5

16

73

538

20

984

117.8

355.4

-----

292.1

832.0

16

80

584

24

1168

203.2

406.4

-----

330.2

990.5

16

92

692
| | | |
| --- | --- | --- |
| Material of Construction | Standard | Grades |
| Stainless Steel Socket Weld Flanges | ASTM A182 , A240 | F 304, 304L, 304H, 316, 316Ti, 316H, 316L, 316LN, 309S, 309H, 310S, 310H,317, 317L, 321, 321H, 347, 347H, 201, 202, 904L |