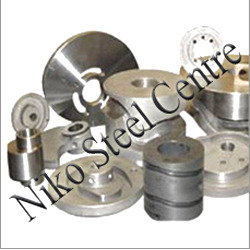 Stainless Steel Flanges
Product Description
We are holding an excellent market position in the domain by exporting and supplying an extensive range Stainless Steel Flanges. These flanges are manufactured using high grade stainless steel at the vendors' end. We can make these flanges available for the clients in different diameters and shapes as per their requirements. Widely used in mechanical and automotive industries our SS Flanges are highly demanded in the market. We are able to deliver our products within the promised time frame.


Features of Stainless Steel Flanges:
Robust construction
Resistant to corrosion
Highly durable
Further Details of Stainless Steel Flanges:
Stainless Steel: ASTM A 182, A 240 Grade: F 304, 304L, 304H, 316, 316L, 316Ti, 310, 310S, 321, 321H, 317, 347, 347H
Nickel Alloys: Monel 400 & 500, Inconel 600 & 625, Incolloy 800, 825, Hastelloy 904
Types : Weldneck, Slipon, Blind, Socket Weld, Lap Joint, Spectacles, Ringjoint, Orifcase, Long Weldneck, Deck Flange, etc.
Grade : ANSI, DIN, JIS & BS StandardsSORF, BLRF & WNRF Size : 15" NB TO 1000" NB Class : 150#, 300#,400 #,600#,900#, 1500# & 2500 #.
Technical Specification:

150 LB. FLANGES
Normal
pipe
size

Outside
dia. of
flange

Minimum
thickness
of flange

Overall Length

Bolt
Circle

No. and
Size of
Holes

O.D. of
raised
face

Welding
neck

Slip-on
& socket
welding

Lap Joint




O

Q

Y

Diam.

No.

dia.

R

1/2

89

11.2

47.6

15.9

15.9

60.5

4

15

35

3/4

117

15.9

57.2

25.4

25.4

82.5

4

15

43

1

108

14.3

55.6

17.5

17.5

79.5

4

15

51

1.1/4

117

15.9

57.2

20.6

20.6

89.0

4

15

64

1.1/2

127

17.5

61.9

22.2

22.2

98.5

4

15

73

2

152

19.1

63.5

25.4

25.4

120.5

4

19

92

2.1/2

178

22.3

69.8

28.6

28.6

139.5

4

19

105

3

190

23.9

69.8

30.2

30.2

152.5

4

19

127

3.1/2

216

23.9

71.4

31.8

31.8

178.0

8

19

140

4

229

23.9

86.2

33.3

33.3

190.5

8

19

157

5

254

23.9

88.9

36.5

36.5

216.0

8

22

186

6

279

25.4

88.9

39.7

39.7

241.5

8

22

216

8

343

28.6

101.6

44.4

44.4

298.5

8

22

270

10

406

30.2

101.6

49.2

49.2

362.0

12

25

324

12

483

31.8

114.3

55.6

55.6

432.0

12

25

381

14

533

35.0

127.0

57.2

79.4

476.0

12

29

413

16

597

36.6

127.0

63.5

87.3

539.5

16

29

470

18

635

39.7

139.7

68.3

96.8

578.0

16

32

533

20

698

42.9

144.5

73.0

103.2

635.0

20

32

584

24

813

47.7

152.4

82.6

111.1

749.5

20

35

692
300 LB. FLANGES

Normal
pipe
size

Outside
dia. of
flange

Minimum
thickness
of flange

Overall Length

Bolt
Circle

No. and
Size of
Holes

O.D. of
raised
face

Welding
neck

Slip-on
& socket
welding

Lap Joint




O

Q

Y

Diam.

No.

dia.

R

1/2

95

14.3

52.4

22.2

22.2

666.5

4

15

35

3/4

117

15.9

57.2

25.4

25.4

82.4

4

19

43

1

124

17.5

61.9

27.0

27.0

89.0

4

19

51

1-1/4

133

19.1

65.1

27.0

27.0

98.5

4

19

64

1-1/2

156

20.7

68.3

30.2

30.2

114.5

4

22

73

2

165

22.3

69.8

33.3

33.3

127.0

8

19

92

2-1/2

190

25.4

76.2

38.1

38.1

149.0

8

22

105

3

210

28.6

79.4

42.9

42.9

168.0

8

22

127

4

254

318

85.7

47.6

47.6

200.0

8

22

157

5

279

35.0

98.4

50.8

50.8

235.0

8

22

186

6

313

36.6

98.4

52.4

52.4

270.0

12

22

216

6

381

413

111.1

61.9

91.9

330.0

12

25

270

10

444

47.7

117.5

66.7

95.3

387.5

16

29

324

12

521

50.8

130.2

73.0

101.6

451.0

16

32

381

14

584

54.0

142.9

76.2

111.1

514.5

20

32

413

16

648

57.2

146.0

82.6

120.7

571.5

20

35

470

18

711

60.4

158.8

88.9

130.2

628.5

24

35

533

20

775

63.5

161.9

95.2

139.7

686.0

24

35

584

24

914

69.9

168.3

106.4

152.4

843.0

24

41

692
600 LB. FLANGES
Normal
pipe
size

Outside
dia. of
flange

Minimum
thickness of
flange

Overall Length

Bolt Circle

No. and
Size of
Holes

O.D. of
raised
face

Welding neck

Slip-on
& socket
welding

Lap Joint




O

Q

Y

Diam.

No.

dia.

R

1/2

95

14.3

52.4

22.2

22.2

66.5

4

15

35

3/4

117

15.9

57.2

25.4

25.4

82.5

4

19

43

1

124

17.5

61.9

27.0

27.0

89.0

4

19

51

1-1/4

133

20.7

66.7

28.6

28.6

98.5

4

19

64

1-1/2

156

22.3

69.8

31.8

31.8

114.5

4

22

73

2

165

25.4

73.0

36.5

36.5

127.0

8

19

92

2-1/2

190

28.6

79.4

41.3

41.3

149.0

8

22

105

3

210

31.8

82.6

46.0

46.0

168.0

8

22

127

3-1/2

229

35.0

85.7

49.2

49.2

184.0

8

25

140

4

273

38.1

101.6

54.0

54.0

216.0

8

25

157

5

330

44.5

114.3

60.3

60.3

266.5

8

29

186

6

356

47.7

117.5

66.7

66.7

292.0

12

29

216

8

419

55.6

133.4

76.2

76.2

349.0

12

32

270

10

508

63.5

152.4

85.7

115.1

432.0

16

85

324

12

559

66.7

155.6

92.1

111.1

489.0

20

35

381

14

603

69.9

165.1

93.7

117.5

527.0

20

38

413

16

686

76.2

177.8

106.4

127.0

603.0

20

41

470

18

743

82.6

184.2

117.6

139.7

654.0

20

45

533

20

813

88.9

190.5

127.0

165.1

724.0

24

45

584

24

940

101.6

203.2

139.7

184.2

838.0

24

51

692
900 LB. FLANGES
Normal
pipe
size

Outside
dia. of
flange

Minimum
thickness of
flange

Overall Length

Bolt
Circle

No. and
Size of
Holes

O.D. of
raised
face

Welding neck

Slip-on
&
socket
welding

Lap Joint




O

Q

Y

Diam.

No.

dia.

R

1/2

121

22.3

60.3

31.8

31.8

82.5

4

22

35

3/4

130

25.4

69.8

34.9

34.9

89.0

4

22

43

1

149

28.6

78.0

41.3

41.3

101.5

4

25

51

1-1/4

159

28.6

78.0

41.3

41.3

111.0

4

25

64

1-1/2

178

31.8

82.6

44.4

44.4

124.0

4

29

78

2

216

38.1

101.6

57.2

57.2

165.0

8

25

92

2-1/2

244

41.3

104.8

63.5

63.5

190.5

8

29

105

8

241

38.1

101.6

54.0

54.0

190.5

8

25

127

3-1/2




























4

292

44.5

114.3

69.8

69.8

235.0

8

32

157

5

349

50.8

127.0

79.4

79.4

279.5

8

35

186

6

381

55.6

189.7

85.7

85.7

317.5

12

32

216

8

470

68.5

161.9

101.8

114.3

393.5

12

38

270

10

546

69.9

184.2

108.0

127.0

470.0

16

38

324

12

610

79.4

200.0

117.5

142.9

533.5

20

38

381

14

584

54.0

142.9

76.2

111.1

514.5

20

32

413

16

711

60.4

158.8

88.9

130.2

628.5

24

35

533

20

775

63.5

161.9

95.2

139.7

686.0

24

35

584

24

914

69.9

168.3

106.4

152.4

843.0

24

41

692