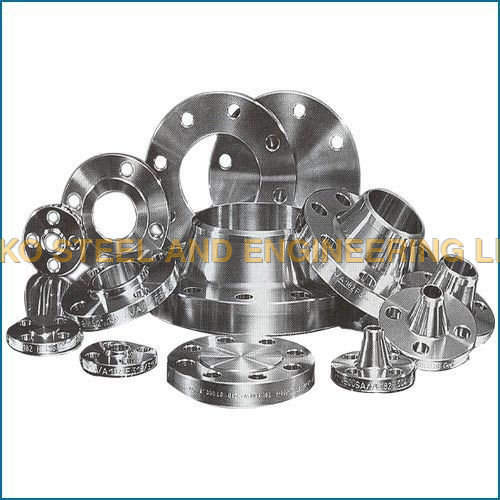 Steel Pipe Flanges
Product Description
Being a specialized manufacturer and exporter of the industry, we are offering an exceptional range of Steel Pipe Flange. These flanges are easily fitted and welded into different pipes for eliminating the chances of liquid leakage. In order to manufacture high quality Steel Pipe Flange, our professionals employ advanced machines and utilize quality tested steel procured from the authentic vendors. Owing to our unmatched quality, we are exporting these flanges to various international markets that include Europe, USA, Middle East and Gulf Countries.


Features of Steel Pipe Flanges:
Easy installation
Rugged design
Corrosion resistant
Further Details of SS Pipe Flanges:

Our clients can avail from us, a resilient range of steel flanges that is offered in various types like Weld-neck, Slip-on, Blind, Socket Weld, Lop Joint, Spectacles, Ring Joint, Oriface, Long Weld-neck, Deck and RTJ. Offered in class ranging from 150# to 300#, 400#, 600#, 900#, 1500# and 2500#, these steel flanges are designed in a size range of 1/2"NB to 24"NB.


These flanges can be constructed in different material, like the following:
Stainless Steel: ASTM A182 F304/ 304L/ 304H/ 316/ 316L/ 317/ 317L/ 321/310/347/904L
Carbon Steel: ASTM A105/ A694F42/46/52/56/60/65/70/A350 LF3/A350 LF2
Alloy Steel: ASTM A182 F1/ F5/ F9/ F11/ F22/ F91
Monel
Nickel
Inconel
Hostalloy
Copper
Brass
Bronze
Titanium
Tantolum
Bismuth
Aluminium
High Speed Steel
Zinc
Lend
Technical Specification:
2500 LB. FLANGE
Normal
pipe
size

Outside
dia. of
flange

Minimum
thickness
of flange

Overall Length

Bolt
Circle

No. and
Size of
Holes

O.D. of
raised
face

Welding
neck

Slip-on
&
socket
welding

Lap
Joint




O

Q

Y

Diam.

No.

dia.

R

1/2

133.4

30.2

73.0

39.7

39.7

88.9

4

22

34.9

3/4

139.7

31.8

79.4

42.9

42.9

95.3

4

22

42.9

1

158.8

34.9

88.9

47.6

47.6

108.0

4

25

50.8

1-1/4

184.2

38.1

95.3

52.4

52.4

130.2

4

29

63.5

1-1/2

203.2

44.5

111.1

60.3

60.3

146.0

4

32

73.0

2

235.0

50.8

127.0

69.9

69.9

171.5

8

29

92.1

2-1/2

266.7

57.2

142.9

79.4

79.4

196.9

8

32

104.8

3

304.8

66.7

168.3

92.1

92.1

228.6

8

35

127.0

3-1/2




























4

355.6

76.2

190.5

108.0

108.0

273.0

8

41

157.2

5

419.1

92.1

228.6

130.2

130.2

323.9

8

48

185.7

6

482.6

108.0

273.1

152.4

152.4

268.3

8

54

215.9

8

552.5

127.0

317.5

177.8

177.8

438.2

12

54

269.9

10

673.1

165.1

419.1

228.6

228.6

539.8

12

67

323.9

12

762.0

184.2

463.6

254.0

254.0

619.1

12

73

381.03

14

---

---

---

---

---

---

--

---

---

16

---

---

---

---

---

---

--

---

---

18

---

---

---

---

---

---

--

---

--

20

---

---

---

---

---

---

--

---

--

24

---

---

---

---

---

---

--

---

--