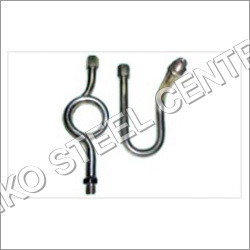 Syphon Tube
Product Description
Being an ISO 9001- 2008 & MSME (SSI) Certified company, we are a prominent manufacturer and exporter of Syphon Tubes. These tubes are made and designed by a team of veteran engineers using top quality stainless steel, in adherence with international quality standards. Our Stainless Steel Syphon Tubes are used in different industries like oil & gas, petrochemicals, pharmaceutical and automotive for transmitting petrol and chemicals. We offer these tubes to the clients at a reasonable price. We provide a comprehensive range of Syphon tube that are designed as per the exact requirements of clients. Our experts formulated them using quality carbon Steel, Stainless Steel and Alloy Steel. These tubes play an active role in safeguarding instruments from higher temperature. Our Syphon tubes are also available at cost effective rates and created using specialized technique. Syphon Tube is generally a pipe that allows liquid to flow from the higher level to the lower level. These tubes are extensively used in agriculture lands for irrigation to transfer water over a barrier. These tubes can be easily relocated from one bay or field to another as the required water level is reached. Our wide range is offered to clients in different lengths and diameters.
Features of Syphon Tube:


High heat resistant
Durable finish
Negligible maintenance

Specifications of Syphon Tube:


Stainless Steel: ASTM / ASME SA 182 F 304 , 304L , 304H, 309H, 310H , 316 , 316H , 316L , 316 LN , 317 , 317L , 321 , 321H , 347 , 347 H
Alloy Steel: ASTM / ASME A 182 GR F 5, F 9, F 11, F 12, F 22, F 91.
Carbon Steel: ASTM / ASME A 105., ASTM / ASME A 350 LF 2.
Duplex Steel: ASTM / ASME SA 182 F 44, F 45, F51, F 53, F 55, F 60, F 61.
Nickel Alloy: ASTM/ASME SB 564, UNS 2200 (NICKEL 200), UNS 4400 (MONEL 400), UNS 8825 INCONEL (825), UNS 6600(INCONEL 600), UNS 6601 (INCONEL 601), UNS 6625 (INCONEL 625), UNS 10276 (HASTELLOY C 276), ASTM/ASME SB 160 UNS 2201(NICKEL 201), ASTM/ASME SB 472 UNS 8020(ALLOY 20/20 CB 3)
Copper Alloy: ASTM/ASME SB 61 UNS NO. C 92200, ASTM/ASME SB 62 UNS NO. C 83600 & ASTM/ASME SB 151 UNS NO. , 70600, 71500, C 70600 (CU-NI-90/10), C 71500 (CU-NI-70/30), ASTM/ASME SB 152 UNS NO C 10100, C 10200, C 10300, C 10800, C 12000, C 12200.

Syphon Tube : BSI Syphons can be used to protect instruments from higher temperature & direct contact of live medium with instruments. These are manufactured in carbon Steel, Stainless Steel & Alloy Steel with butt weld or Threaded Ports.


More Details :


M.O.C : SS304, SS316, Carbon Steel AND P22
End Connection : SS304, SS316, Carbon Steel AND P22
Rating : Up to 210 Kg / Cm²
Type : Stainless steel 304 & 316 Gr. in U type, Trumpet Type (Pigtail & Coil Type)
Grade : 304, 316, P-22, P-11, P-91
Application:


Connected between the pressure gauge & process in applications where high temperature vapors or fluids are present or temperature above 65 Deg C for e.g.. steam. These Syphon Tubes acts as a cooling coil and protects the gauge from high temperature vapors